Welcome to Las Ventanas Surgery Center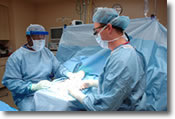 Las Ventanas Surgery Center is pleased
that you and your physician have chosen to use our facility. Our staff wants to make your upcoming visit as comfortable and pleasant
as possible. We provide excellent quality
care in a warm and personalized setting, minimizing the stresses typically associated with the traditional hospital atmosphere.
Las Ventanas Surgery Center was
established in 2003 by local physicians
to offer patients the benefit of having
outpatient procedures.
What is Outpatient Surgery?
Advanced medical technology has made surgical procedures less complicated with reduced recovery time. Offering the same quality surgical care as a hospital, Las Ventanas Surgery Center specializes in surgical procedures that do not require overnight hospitalization. In most cases patients return to the comfort of their own homes one or two hours after surgery.